Overview
Ferkar Mill
The Ferkar mill is an advanced vertical milling equipment for the food, pharmaceutical, chemical and several other industries.
Its design is the result of many years of our development, innovations and experience.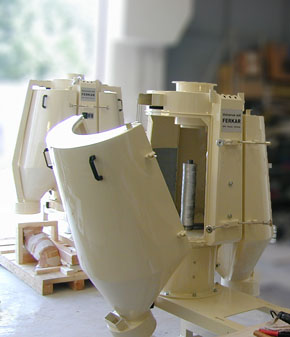 With its proven track record in all sorts of applications Ferkar mill is a high quality product for even the most demanding clients.
It is suitable for universal purposes and is very efficient and simple to use.
Capacity & Granulation
The Ferkar mill is made in different sizes. Motor power depends on application and ranges from 3.5kW to 36kW.
Description of Ferkar mill types.
The capacity depends upon input material and desired output granulation.
Ferkar mill can use both perforated and woven metal mesh screens.
Perforated screens can range up from 0.37mm.
Woven metal mesh screens can range form 0.18mm which is used for special applications when needed.
Modular construction
Since the mill is constructed modularly, it can be easily and quickly taken apart for cleaning. This provides simple and thorough cleaning, which is essential or even a must when using the same mill for several different input materials.
Grinding of many different substances with the same mill is made possible by simple change of screens and modular rotor configuration. The Ferkar mill can be readapted very quickly - in a few minutes - resulting in entirely new process for completely different input/output requirements.
Its own and unique system of grinding makes possible to grind the input down to its powdered state - such as sugar and various flours - or into uniformly granulated output almost without any powder contents - like filter tea, herbs and spices.
It is also possible to just cut input into few pieces to get cracked wheat or cutting various nuts.
The same is valid for non food input materials.
Air cooling & Air recycling
The Ferkar mill has a self contained air cooling system which provides cooling of the machine for permanent operation. This makes constant conditions for milling without the product itself overheating and therefore the mill can run 24/7.
Because of the air recycling and unique closed grinding system the fine powdered particels and 100% of aromas are kept in the final product.
Therefore dust elimination cyclones, filters, airlocks, fans or blowers are not needed.